Welcome to the Transportation Department for the Hastings on Hudson Union Free School District.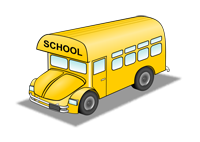 IMPORTANT NOTE TO PARENTS:
Students should be at the bus stop 5 minutes earlier than the scheduled AM pick-up time.
Afternoon arrival times are approximate and can vary day to day based on school dismissal procedures and/or traffic conditions.
Students need to get used to their bus routine, so there could be delays of up to 10-30 minutes in bus arrivals during the first week or so of school.